About the Artist
Janet Griffin-Scott was born in Toronto but was raised in Midland, Ontario, where she had an outlet for love of horses and nature at an early age. As a teenager, Janet showed horses over fences successfully at the schooling show, country fair and Club level. Janet attended York University's BFA program and majored in Graphic Design, Photography and Illustration. It was a four year program, and she graduated with Honours. She then worked in downtown Toronto in Ad agencies and art studios as a freelance artist for the next ten years.
When Janet and her husband James children started school Janet decided not to go back to the advertising art world but decided to pursue her first love of subject matter in art, horses. In high school and then in university, she had been discouraged to paint anything to do with horses. Her art teacher in Grade Nine art gave her a near failing grade when he was so frustrated at her turning every assignment into an equine art project.
Finally free to pursue her desire to portray horses, Janet experimented with different media: pencil, oil, acrylic and finally felt comfortable and free to create with a mixture of watercolour and gouache, the more opaque version of watercolour with heavier binder. She found that she could get incredible effects with the mixed media, achieving effects that were soft and subtle to bold and brilliant. Janet began an ten year journey to perfect and hone her craft, doing commissioned portrait of dogs, cats, children and horses. The effects she got with the mixed media, as well as the excellent likeness she achieved, made her work much in demand with collectors and guaranteed her repeat customers. One collector has eleven originals of Janet's decorating their beautiful home.
Janet then embarked on a wide departure from the days of hanging and selling original paintings. She began to put more of her work in print, as prints, Greeting Cards and gradually an ever increasing line of equine giftware. As an experiment, Janet attended a few wholesale trade shows in Canada and the United States, and gradually a whole new area of business opened up to her: supplying stores with her artwork manufactured into different products.
To date Janet has been the creator and manufacturer of hundreds and hundreds of new gift products that feature her equine art: Framed prints, Greeting Cards, notebooks, binders, and other stationery items. Her work can now be found in over 650 stores in Canada and the US. It has been a few years of great excitement for Janet, seeing her work enjoyed by many people. New product development has become a challenging and exciting way to bring her art to the retailer. In addition, Janet has joined the lucrative world of Licensing after attending as an exhibitor, the New York Stationery Show. Companies license her work for their own product: china, flags, coasters, floormats, and more cards. Her products are in other countries around the world like Australia, the UK, Ireland, Germany, Scotland and many others.
In 2012 Janet's life changed in a drastic way with the end of thirty year marriage. Janet still owns one horse left over from the hobby farm that was her home for 15 years. Cinnamon, a Quarter horse Mare, is almost thirty years old. She is featured in Janet's logo. Janet rides lightly and is looking for a younger, more athletic horse. She continues in the business part time and pursues several sports and hobbies. She used to ride Endurance but is still searching for the right horse to compete in that sport again. Janet also sold horse tack and equipment as an add on to the gallery and custom framing and still occassionally takes 'the show on the road', travelling to art and trade shows across Canada and the United States
Horses are such noble creatures" says Janet. They combine athleticism and beauty, grace and power in an unbelievably powerful way. They have captivated and entertained people for centuries and have worked willingly for mankind. Their highly developed social behaviour and friendly willing natures make them great companions in sport and leisure. There is nothing more wonderful than tuning into their communication and being accepted as one of the herd. From their warm brown eyes and fuzzy winter coats to their shiny summer beauty, they have become essential to my life and happiness. I hope to portray a small touch of this great respect and love in my artwork.
2010 was a truly remarkable year for Janet. She designed a pure gold coin for the Royal Canadian Mint of an RCMP officer and his horse and her book Watercolour Made Easy: Horses and Ponies was released by Walter Foster Publishing. In 2012 she designed a second coin for the Mint also featuring the Mounties and she has been on the short list for three more coins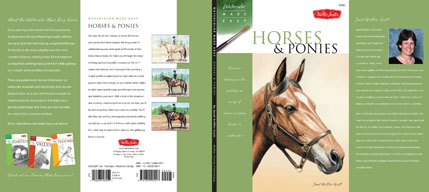 The Walter Foster Watercolor Made Easy series books "Horses & Ponies" is available from Janet and at major book stores
http://www.chapters.indigo.ca/books/Horses-Ponies-Discover-techniques-painting-Janet-Griffin-scott/9781600582097-item.html?ikwid=janet+griffin-scott&ikwsec=Home
Also see other related books
http://www.chapters.indigo.ca/en-ca/home/search/?keywords=janet%20griffin-scott
---
All photographs/Artwork on this Web site are copyright Janet Griffin-Scott
They may not be used without written permission.
You can reach me (Janet Griffin-Scott) by email at: