Horse Framed Prints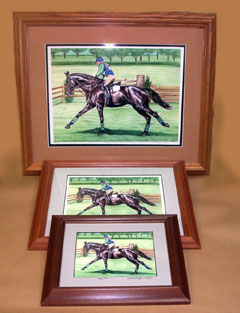 Horse Framed Prints available in the all the designs below.
Retail price - 8"x10" Framed print $44.00
Retail price - 11"x14" Framed print $55.00
Retail price - 16"x20" Framed print $209.00
Order Framed prints by design name and size.
Framed Prints available as all Equine images.
Click here to view images.
---
All photographs/Artwork on this Web site are copyright Janet Griffin-Scott
They may not be used without written permission.
You can reach me (Janet Griffin-Scott) by email at: